Online Banking is your link to account access 24 hours a day. Check your balances, transfer funds between your accounts, make loan payments, view statements, and more! Sign up HERE.
If you have a checking account, our Bill Payer can be your electronic checkbook. Schedule a payment to nearly any company or person, and Bill Payer will send it on its way. You won't need to write a check or use a stamp! Most payments can be sent electronically, which gives you the speed and convenience of automatic debits without having to provide your account information to everyone you do business with.
Click this icon to find out more about Online Bill Pay: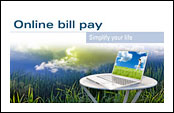 JACFCU provides Online Banking free of charge as a service to our members.